Tropical Salsa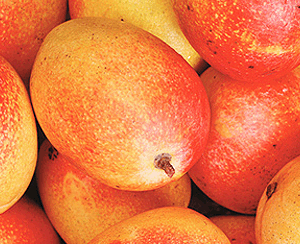 Salsa is one of the most popular condiments on the market today. Store shelves are constantly being stocked with new and exciting salsa blends. Use this homemade salsa on top of chicken or fish to add a tropical twist to your meals. Tropical salsa is also terrific when used as a dip for tortilla chips. Try tropical salsa as a fat free alternative for salad dressing.
Makes about 6 x 500-ml jars
Ingredients
12 cups (3,000 ml) chopped tomatoes, about 6 lb (2.8 kg), 24 medium
2 ripe mangoes, chopped
1 can (19oz/540 ml) crushed pineapple, drained
1 pkg (115 g) BERNARDIN Salsa Mix
1/2 cup (125 ml) cider vinegar
Directions
Place 6 clean 500-ml mason jars on a rack in a boiling water canner; cover jars with water and heat to a simmer (180°F/82°C). Set screw bands aside; heat SNAP Lids in hot water, NOT boiling (180°F/82°C). Keep jars and SNAP Lids hot until ready to use.
Wash, core, seed and chop tomatoes; drain off excess liquid. Measure 12 cups (3,000 ml).
In a large stainless steel saucepan, combine BERNARDIN Salsa Mix and cider vinegar. Add tomatoes, mango and pineapple; mix well. Bring to a boil; boil gently, uncovered, 5 minutes.
Ladle salsa into a hot jar to within 1/2 inch (1 cm) of top rim (headspace). Using nonmetallic utensil, remove air bubbles. Wipe jar rim removing any stickiness. Centre SNAP Lid on jar; apply screw band securely and firmly until resistance is met – fingertip tight. Do not overtighten. Place jar in canner; repeat for remaining salsa.
Cover canner; bring water to a boil. At altitudes up to 1,000 ft (305 m), process – boil filled jars – 20 minutes.* Remove jars without tilting. Cool upright, undisturbed 24 hours; DO NOT RETIGHTEN screw bands. After cooling check jar seals. Sealed lids curve downward. Remove screw bands; wipe and dry bands and jars. Store screw bands separately or replace loosely on jars, as desired. Label and store jars in a cool, dark place.