Apples with Sweet and Sour Pork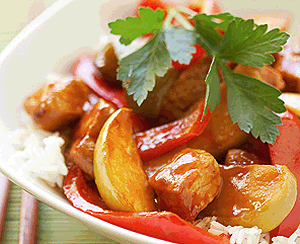 With pork and apples as a base, this dish can be varied with different colored peppers, pineapple cubes, broccoli or carrots.
Ingredients
500 g (1 lb) boneless pork loin, cut into cubes
30 mL (2 Tbsp) canola oil
2 apples, unpeeled, cut into wedges
1/2 medium onion, cut into wedges
1 red or green bell pepper, chopped
15 mL (1 Tbsp) cornstarch
60 mL (1/4 cup) brown sugar
80 mL (1/3 cup) apple cider vinegar
160 mL (2/3 cup) water
125 mL (1/2 cup) ketchup
Directions
Preheat oven to 375° F (190° C).
In skillet, heat oil over medium. Add pork and brown until almost cooked through. Remove from heat and transfer to a large casserole dish sprayed with cooking oil. Add apples, onions and peppers and set aside.
In medium saucepan, combine brown sugar and cornstarch. Stir in vinegar, water and ketchup. Cook over medium-high heat until boiling and beginning to thicken. Remove from heat and pour over pork-apple mixture.
Cover dish and bake for 40 minutes or until apples are soft but keep their shape.
Serve over steamed rice. Accompany with a salad or green vegetables.