Savoury Grape Tomato Salad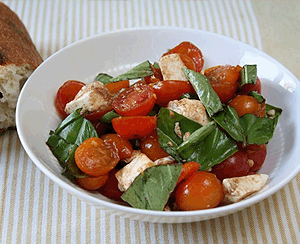 This savoury salad is bursting with the fresh taste of summer!
BC hot house grape tomatoes
cherry bocconcini balls
baby salad greens
extra virgin olive oil
balsamic vinegar
maple syrup
salt and pepper
Slice grape tomatoes and cherry bocconcini balls in half. Mix with baby salad greens. In a small bowl, combine equal amounts of balsamic vinegar and maple syrup. Drizzle with both olive oil and balsamic-syrup mixture. Add salt and pepper to taste. ENJOY!
*Alter ingredient quantities to suit your diners' needs.
Recipe provided courtesy of: http://www.bchothouse.com